96 percent of the world population is consuming products outside the US.
International trade is no longer a luxury. It is a necessity for businesses looking to grow. Our Export Regulatory Compliant consultants are available, at no cost, to help you reach new markets – even when you don't know where to begin.
Increase your bottom line
Diversify your target market
Mitigate geopolitical risk
International Trade Assistance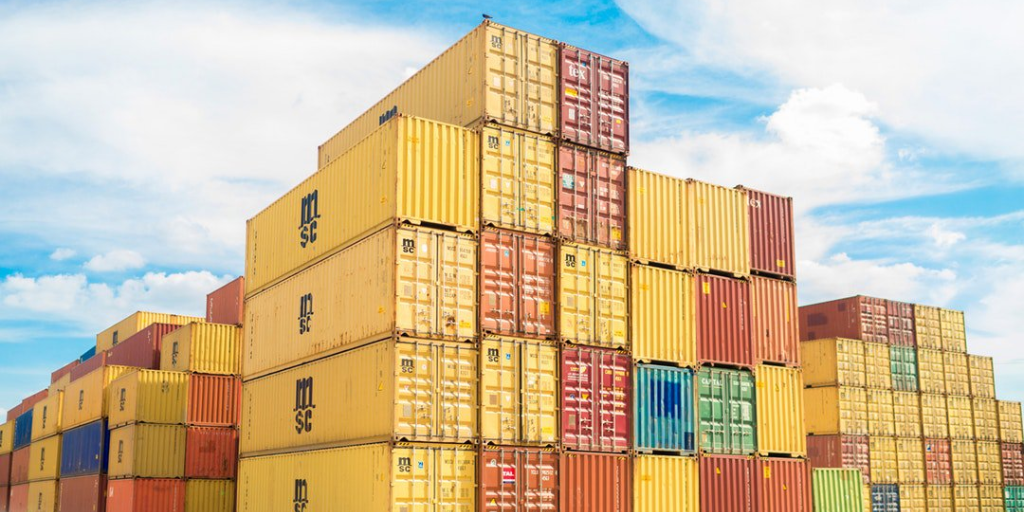 We can help your business with:
Import and export documentation: Documentation is an integral process for trading. Close attention to detail is important as requirements vary considerably by country, commodity and situation.
Shipping logistics and distribution: Choosing the best processes for trade is integral to running a successfully trading operation. We can help you customize your process — carrier and mode selection, compliance, payment regulations and any required specializations.
Trade grants: Every Wisconsin business is eligible for an annual grant up to $25,000 to spend on entering or expanding new markets.
Market intelligence and trade data: With access to data in 80+ countries, we can help determine which route is right for you.
eCommerce platforms: Selling online is crucial but needs even more attention to detail when working across borders.
Export Pro Series Webinars
The Export Pro Series of webinars focus on the many local, state and federal trade resources and programs available to manufacturers and service providers alike with the goal of increasing total exports from the state. Held quarterly, these 60-minutes webinars are also recorded to be viewed at any time. Please subscribe to our newsletter to received information on upcoming webinars or, to request trade topics for future webinars, please contact us.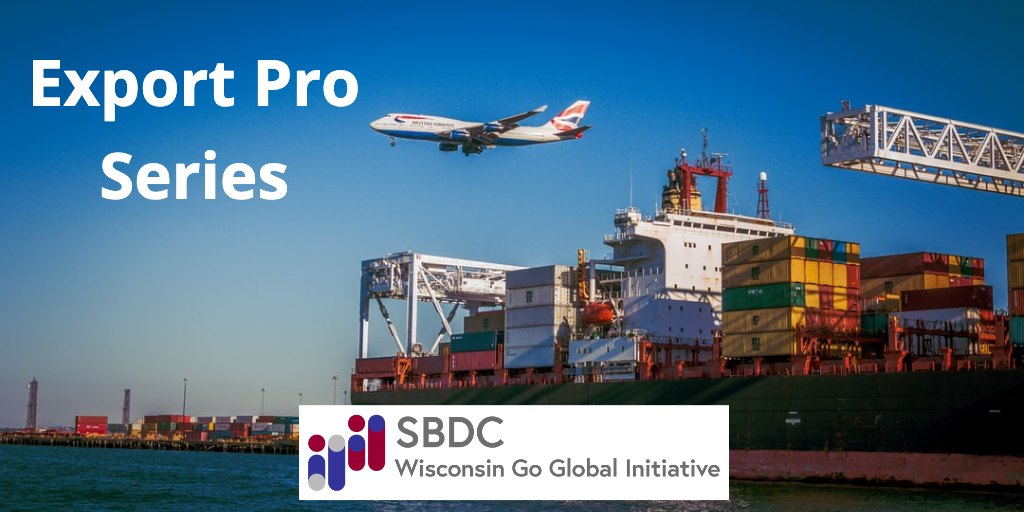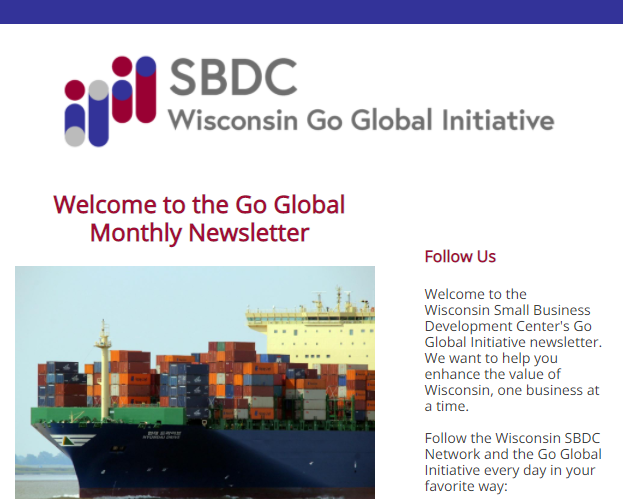 Go Global Newsletter
Stay up to date to help your business Go Global.
Get Started Today
The Wisconsin SBDC has international trade certified business consultants serving our state:
Additional State & Federal Trade Resources:
The staff at the International Agribusiness Center provides technical expertise and market development initiatives to Wisconsin's food and agricultural companies to aid the growth of Wisconsin agriculture through increased exports and the development of trade enhancing partnerships. The staff uses client feedback, global trends, market and export data to establish criteria for identifying target markets and activities.
The Trade Passport website is a resource aimed at providing on-demand training, local resources, and rapid expert assistance to USA-based small-medium-sized businesses that are focused on international trade as a pathway to business growth. This a collaborative venture between NASBITE International, the Wisconsin SBDC Network and multiple state-level partners.
The U.S. Commercial Service (USCS) is part of the International Trade Administration, U. S. Department of Commerce. USCS has offices throughout the country and in over 120 foreign consulates and embassies. They can help you develop an effective export strategy, operationalize your organization for exporting, and identify and qualify leads for potential overseas buyers, distributors, joint venture partners, and licensees from both private and public sources.
The Wisconsin District Export Council (DEC) is a non-profit organization composed of experienced exporters and business professionals who provide support services to Wisconsin exporters. Each DEC member has been appointed by the U.S. Secretary of Commerce because of his or her real-world expertise in international trade matters and commitment to volunteerism. DEC members share their time and specialized expertise with small- and medium-sized businesses that are interested in starting to export or expand into new markets.
The Wisconsin Economic Development Corporation (WEDC) provides export assistance and trade promotion services to companies all along the export continuum. WEDC's services include:
Export development and consulting services provided by Wisconsin-based staff specializing in different parts of the world
ExporTech™, delivered in partnership by the Wisconsin Manufacturing Extension Partnership and the Northwest Wisconsin Manufacturing Outreach Center
A network of authorized trade representatives that can conduct market assessments, partner searches, and business meeting facilitation activities in nearly 100 countries around the world
Global Trade Ventures that make it easier to travel to key markets and meet with potential partners and customers
International Market Access Grant (IMAG) Program that provides funding to support a company's specific export development and deployment strategy