Throughout 2020, the Wisconsin SBDC's 40th anniversary, the network is shining a spotlight on the talented team that makes our work possible.
Year started with the SBDC: 2016. Prior to coming to the SBDC, Katherine worked as a parish administrator for a large congregation and she operated her own fitness center business. The business, titled Lady Katherine, had locations in Wisconsin and Minnesota. It was true to its tagline: "women's fitness with a touch of sass." Katherine successfully built the brand and then sold it to a second owner who continued to run it for five years. In November 2019, the business was sold to a third owner.
Proudest work accomplishment: Katherine stepped into her current leadership position with her own sense of flair and focused on bringing people together at the UW-River Falls SBDC housed in the St. Croix Valley Innovation Center. Among other things, she started a business book lending library and drop-in hours for both clients and non-clients. She built a strong reputation in the community for the services she provided. When COVID-19 hit, Katherine worked hard to learn, pivot and continue client consulting. She kept up a hectic, unsustainable pace for weeks, and found the opportunity to rise to the occasion very rewarding.
Happiest when: Feeding her pigs, especially Marge the Sow! Katherine's home is also home to lots of pasture pets and house pets, including six dogs, six cats, five cows and six 400-pound hogs.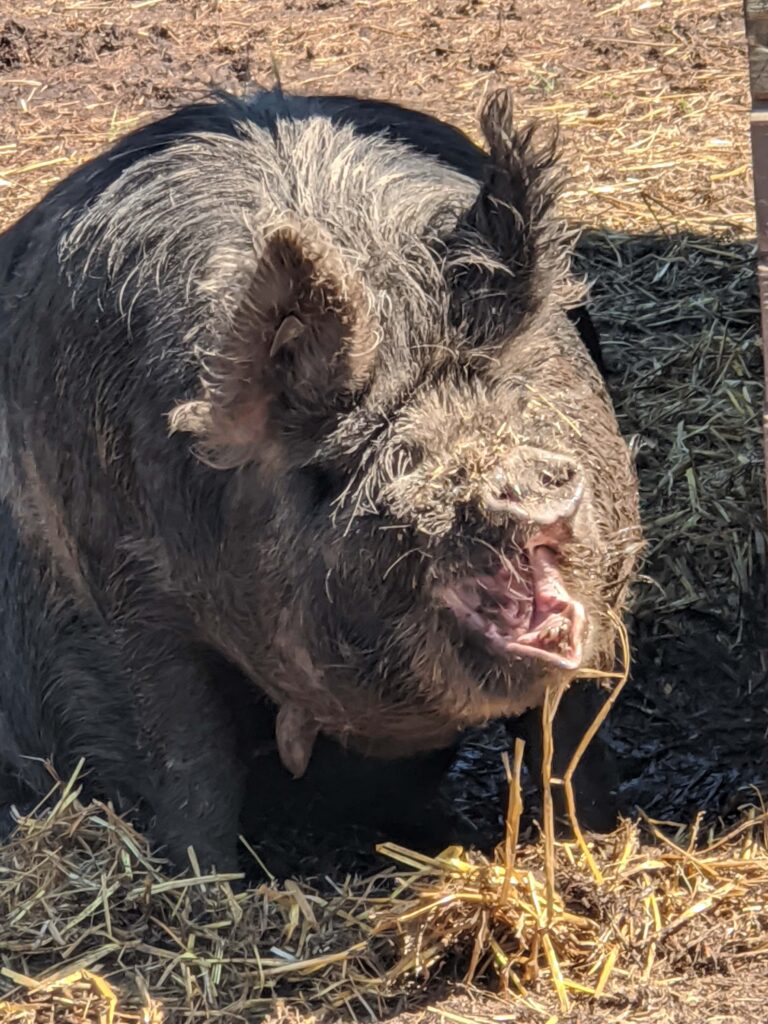 Fun hobby: Katherine enjoys running half marathons and her favorite is the Las Vegas Rock 'n' Roll series. Each year, The Strip is shut down and the event kicks off with a concert. At 4pm, the runners begin in New Vegas and continue all the way to Old Vegas.
Recommended podcasts: Jocko, an ex-Navy Seal, offers great podcasts on business and leadership. Katherine really appreciates his in-depth interviews and her favorite quote comes from him as well: "Discipline equals freedom." She can relate to the idea that having structure and "getting your stuff together" is very liberating. She also enjoys Unlocking Us with Brene Brown, specifically due to the great insights on COVID-19 responses.
Favorite band: The Dead Weather composed of Jack White, Alison Mosshart, Dean Fertita and Jack Lawrence is one of Katherine's favorite bands.
Something she enjoys about SBDC: Katherine loves working along side people as they bring their dreams to reality. She said the best experience is when a client she met with in previous years comes back to meet with her about a new business idea!
Most unusual day at the SBDC: There was once a massive cricket infestation at the Innovation Center, and Katherine began delicately transferring the little critters into a cup and taking them outside. However, as the cricket population increased, even coming up through the floor drains, she knew the team had to leave the building. She is happy to report there has not been a recurrence of the cricket invasion since!
Quote from Tara Carr, Center Director at UW-Green Bay SBDC: "During the initial COVID crisis, I had the opportunity to work more closely with Katherine. Since then, we have been able to develop a relationship that runs much deeper than working colleagues. Despite living at opposite ends of the state and being 'hunkered down,' I have learned much more about Katherine. The past 4 months of the pandemic have been a challenge at so many levels and my new found friendship with Katherine has added much value to my life. Whether is it sharing best practices and perspectives or comparing our love for dogs, our conversations are greatly appreciated. The personal attributes I cherish most about Katherine are her subtle wit, sense of humor and willingness to be vulnerable as a leader. The SBDC is very lucky to have her as a part of our team!."
Learn more about Katherine Fossler in her full bio.
See all of our staff spotlights and 40th Anniversary celebrations, as well as all of our team bios across our 13 centers.