Jennifer and Wade Lamont opened HOTWORX Milwaukee Downtown in November 2021, and these franchisees did not waste any time building brand awareness for their unique gym.
THE BUSINESS
HOTWORX offers 24-hour access to virtually-led infrared sauna workouts. There are currently eight different 30-minute Isometric workouts and three different 15-minute High Intensity Interval Training (HIIT) sessions to choose from. The Milwaukee facility has nine different saunas and each accommodates one to three members per session.
The facility also offers an FX Zone (Functional Exercise Zone) where members can use bands, weights, ropes and other equipment. A silent trainer video is displayed on a monitor with various routines for use in the FX Zone.
THE SBDC
The entrepreneurs came to the UW-Milwaukee Small Business Development Center (SBDC) in May 2021 for assistance with securing financing and help reviewing the franchise agreement. They received that assistance and more from Lynne Keckeisen, an SBDC consultant. "Lynne is awesome!" Jennifer commented. "She helped us with so many things. She reviewed our chart of accounts before we sent it to our accountant. Her expertise and knowledge are incredible. She has been a huge support in answering all our questions."
THE CHALLENGES
Jennifer said one of the biggest obstacles they had to overcome was the 2020 COVID pandemic. The construction of the facility took longer than expected and delayed the business opening. People were also hesitant to even visit the facility because the world had required social distancing and other restrictions for so long.
Luckily, the health benefits that come from the sauna workouts were enough to convince people to try the facility. Members report experiencing benefits like weight loss, decreased pain, improved mood, increased energy level, enhanced quality of sleep and even cellulite reduction. The HOTWORX Burn Off app allows members to book appointments and check sauna availability. This ability coupled with the restriction of only one to three people at a time per sauna really went a long way in making people feel safe at the facility.
Another challenge Jennifer and Wade faced was building brand awareness. Even though the brand is well known and established in the southern United States, this is the first HOTWORX location in Wisconsin. They used incentives like free workouts coupled with lots of social media promotion to get the word out about their unique gym.
THE GROWTH
Even though they opened only a few short months ago, they have already added rowing machines and have grown their staff to five employees. The membership has expanded to over 450 individuals. Jennifer and Wade are excited for future growth as well. They have already acquired two additional licenses for HOTWORX franchise facilities and are in the planning stages of finding the best new locations for this one-of-a-kind gym.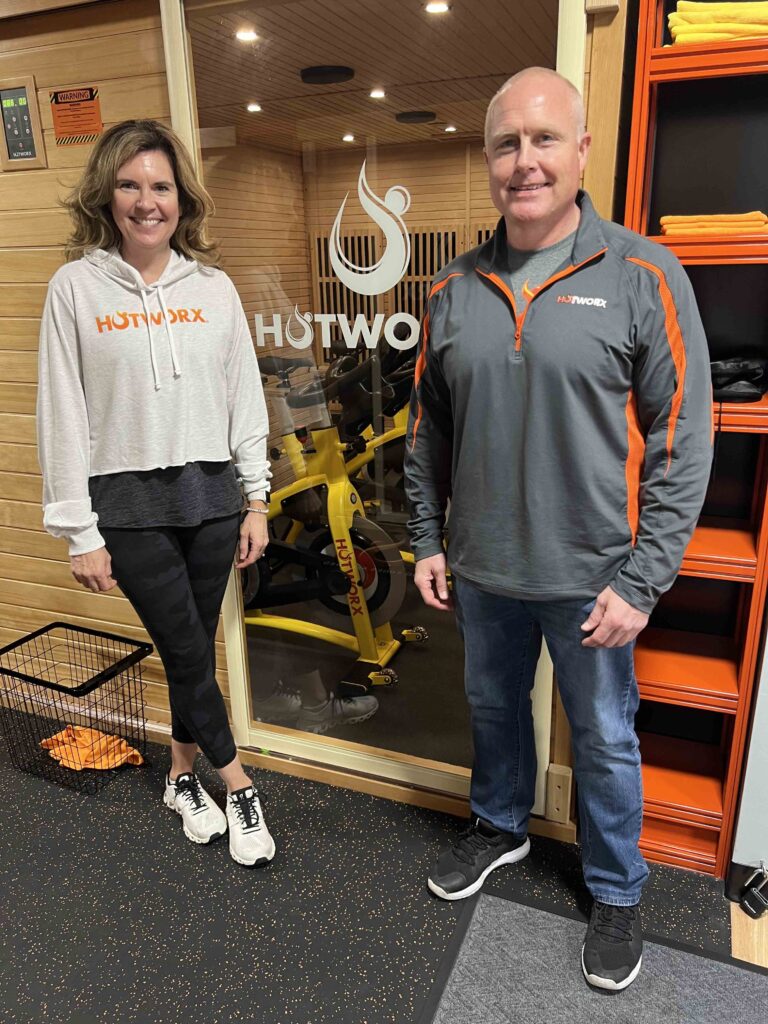 "Lynne reviewed our chart of accounts before we sent it to our accountant. Her expertise and knowledge are incredible."
Jennifer Lamont
HOTWORX Milwaukee Downtown
Accomplishments with UW-Milwaukee SBDC
Securing financing
Reviewing franchise agreement
Business strategy