Natalie and Cal Harris opened Superior Waffles, the only waffle bar in Superior, Wisconsin, in July 2021. And what makes it "superior"? Their homemade batter is Natalie's own recipe and their eat-in café is housed in the historic New York Building, built in 1890 on Tower Avenue. They offer amazing sweet flavors like S'mores and Warm Apple Crisp as well as savory flavors like Pizza Waffle and Braffle, which includes a brat nestled in with raspberry jam and syrup. They also have seemingly endless build-your-own options like peanut butter and chocolate chips and even ice cream.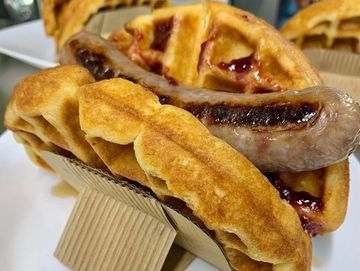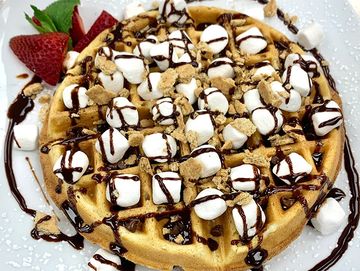 THE COMMUNITY
The business knows the value of community pride. Their restaurant showcases the work of select local artists, and much of the artwork currently centers on illustrations of local landmarks. They also promote retail goods crafted by local artisans. Diners at Superior Waffles can purchase custom-made lip balm, candles and even a room spray which all smell like fresh baked waffles.
The co-owners give back in many ways. They receive so many requests for sponsorships and donations for fundraisers, Natalie and Cal decided to add an online request form to their website to help simplify the process. Among other places, they donate waffles to local hospitals, vet clinics and homeless shelters. They have formed a meaningful connection with The Ruth House, which was established to provide support and services to homeless or at-risk people in the community and helped staff their restaurant through CHOICE, unlimited. CHOICE, unlimited is dedicated to supporting adults with disabilities and individuals who are experiencing barriers to employment and community inclusion.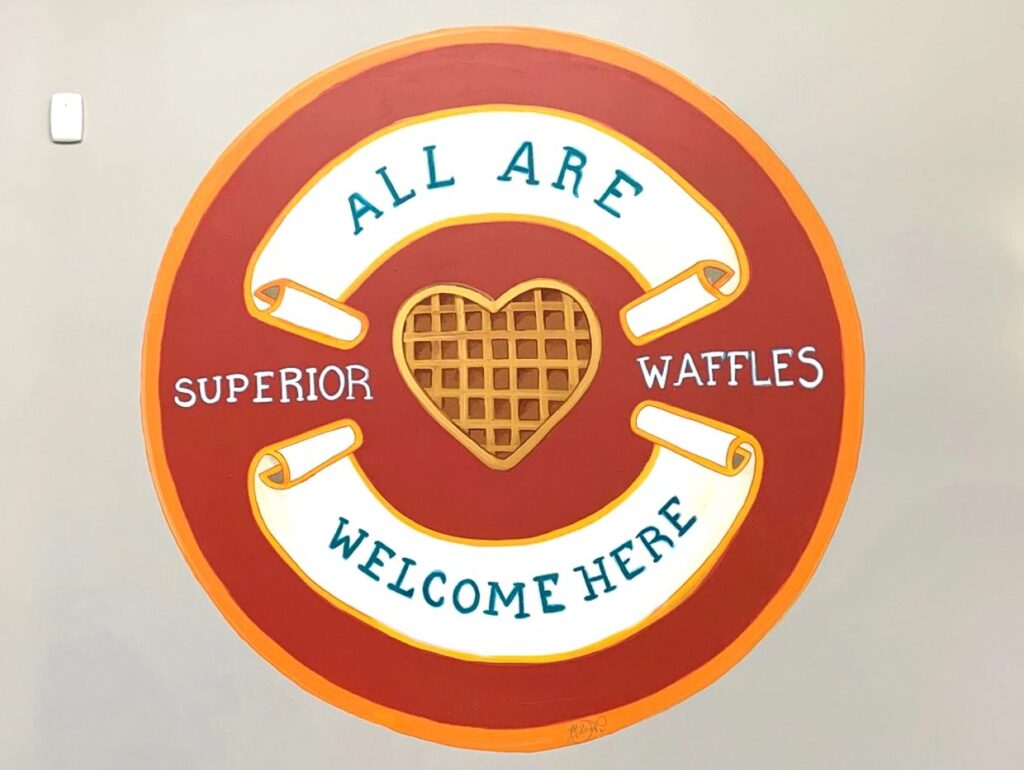 THE START AND THE GROWTH
The café has only been open a few months, but they already added catering services in Fall 2021, and they look forward to expanding their event hosting as it becomes safer to do so. The advice they received from the local Small Business Development Center (SBDC) was extremely helpful in starting and growing the business.
Andy Donahue, the director at the UW-Superior SBDC, assisted the couple with financial projections, QuickBooks set up and provided advice on finding a location and funding sources. Superior Waffles was able to gain funding assistance through the Entrepreneur Fund in Duluth, the Wisconsin Tomorrow Main Street Bounceback Grant sponsored by the Northwest Regional Planning Commission, as well as The Development Association in Superior. 
"Andy helped tremendously," Natalie commented. Cal added, "Andy was just as excited as we were about this venture. He truly wanted us to succeed. He knows everyone in town and his help with networking and relationship building was very helpful."
THE EDUCATION
Natalie and Cal took advantage of many of the educational offerings through the SBDC as well. They really enjoyed the Starting a Food Product Business class and learned key ideas for future use at the QuickBooks Workshop. "The Entrepreneurial Training Program (ETP) offered by the SBDC really helped us the most in getting started," Natalie said. The course is offered over several weeks at select University of Wisconsin campuses and focuses on prospective business model testing and existing business model improvement.
THE FUTURE
We look forward to seeing Superior Waffles continue to grow and positively impact the community. Keep your eyes open for future take-out, delivery and online ordering options!
"Andy's help with networking and relationship building was very helpful."
Cal Harris
Superior Waffles
Accomplishments with UW-Superior SBDC
Financial projections
Funding sources
QuickBooks advice
Location strategy